Discover more from Conscious Capital Advisors Research
Research, reports and commentary on global financial markets by Joseph Lu, CFA.
📑 Research Notes for the Week ending 2020-07-31
This week, we look at the suspicious Kodak announcement, the growth prospects in the United States and Europe, the desperate hunt for yield, and deflationary forces in Australia.
Hi there! 👋
We are a California-based registered investment advisor and investment thought leader, updating you on this week's top investment observations and market performance.
Do not reply to this email with any service requests, contact us instead for support with your accounts if needed.
---
Kodak had some very suspicious trading activity ahead of its major announcement.
(Complex)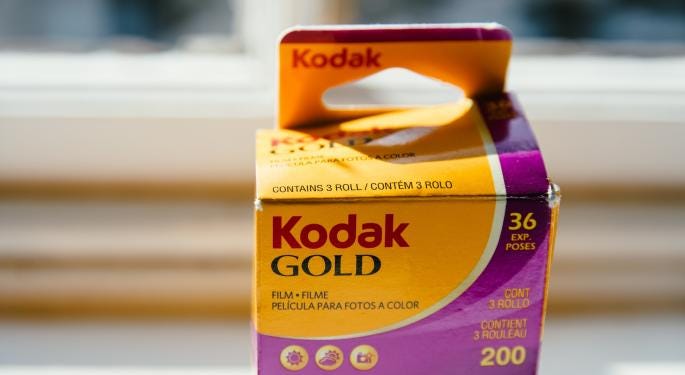 Eastman Kodak shares skyrocketed over 220% on Tuesday after the company announced that it would be shifting into drug production with the help of a $765 million loan from the U.S. government. Abnormal trading volume in the stock of the once bankrupt company was witnessed the day before the announcement, prompting concerns of insider trading.
---
U.S. economy is entering into a period of very low rates and very low growth
. 
(Bloomberg)
The U.S. economy suffered a 32.9% annualized decline, its sharpest downturn since at least the 1940s in Q2 2020 courtesy of the coronavirus. David Hunt, chief executive officer of the investment arm of Prudential Financial Inc., discusses the low growth outlook for the U.S. economy.
---
Eurozone GDP plunges by 12.1% in second quarter. 
(Yahoo Finance)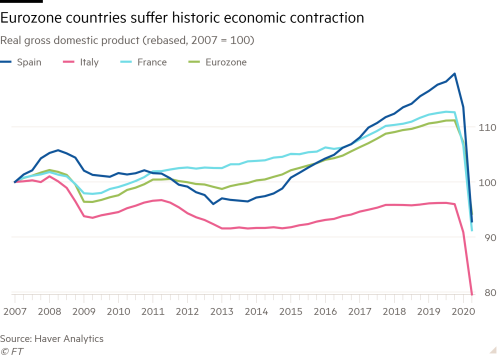 Chart from Financial Times
Gross domestic product (GDP) across the euro area plunged by a record 12.1% in the second quarter, compared to the previous quarter, as coronavirus lockdowns brought commercial and social life to a standstill and plunged the bloc into a deep recession.
---
Desperate hunt for yield forces investors to take 'extreme risk.'
(Financial Times)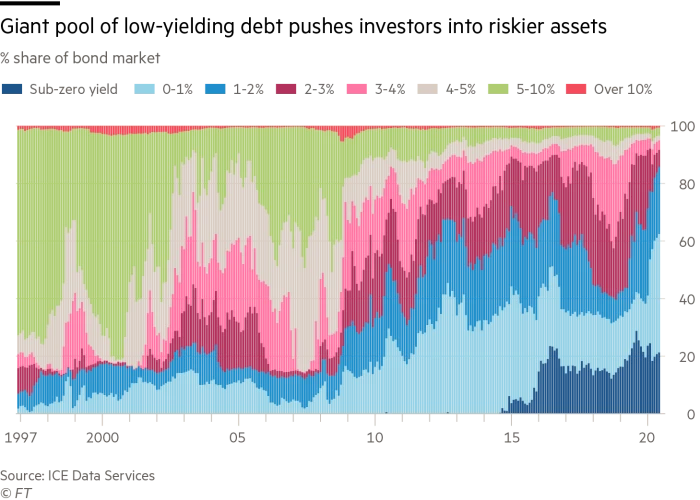 The hunt for yield is getting harder than ever for fixed-income investors. About 86% of the global bond market trades with yields no higher than 2%, a record amount, with more than 60% of the market yielding less than 1% as of the end of Q2 2020. This has pushed investors into riskier segments in search of income, including high yield bonds and emerging market debt, which are lower-quality issues generally. 
---
Australia slips into deflation after CPI suffers biggest quarterly loss in 72 years. 
(9 News)
Australia's consumer price index (or CPI) fell an annualized 1.9% in Q2 2020, as government childcare subsidies and lower oil prices fueled the biggest quarterly fall on record. The largest sector drag on prices came from an 11% fall in household contents and services, which included a 95% drop in childcare costs due to the subsidies. Fuel prices declined 19% in the quarter while falling education costs also weighed.
---
Weekly Price Performance Heatmap
(Finviz)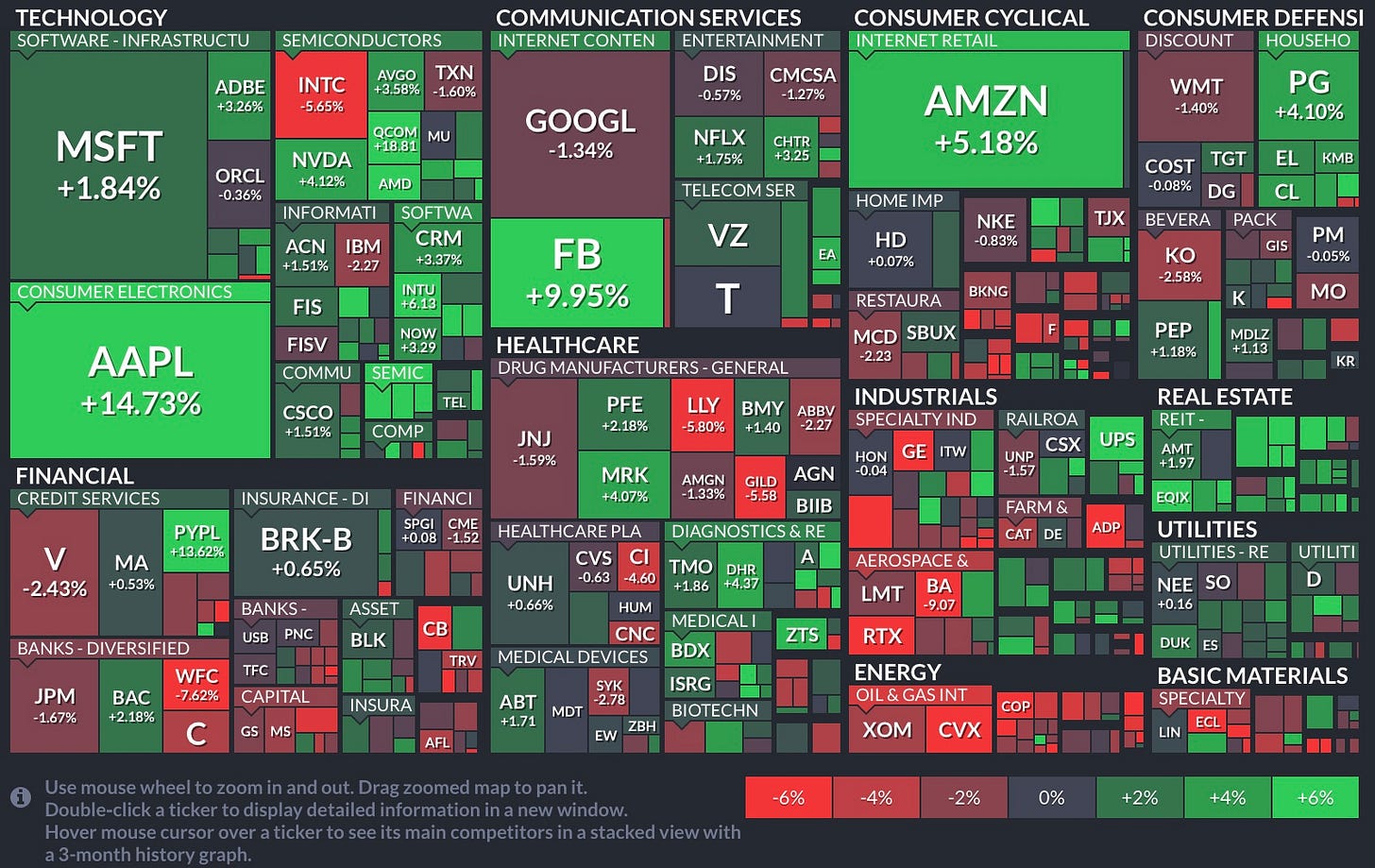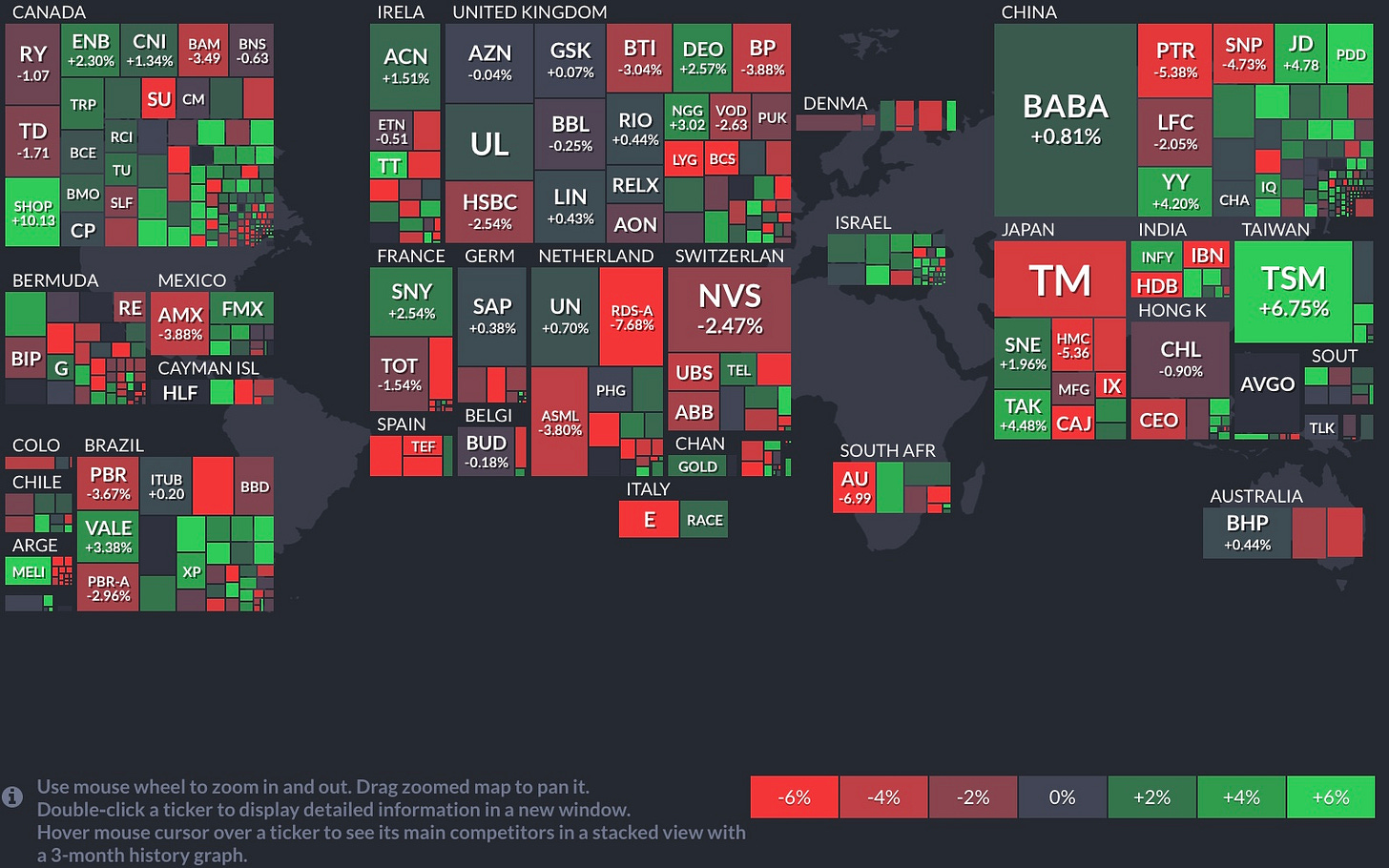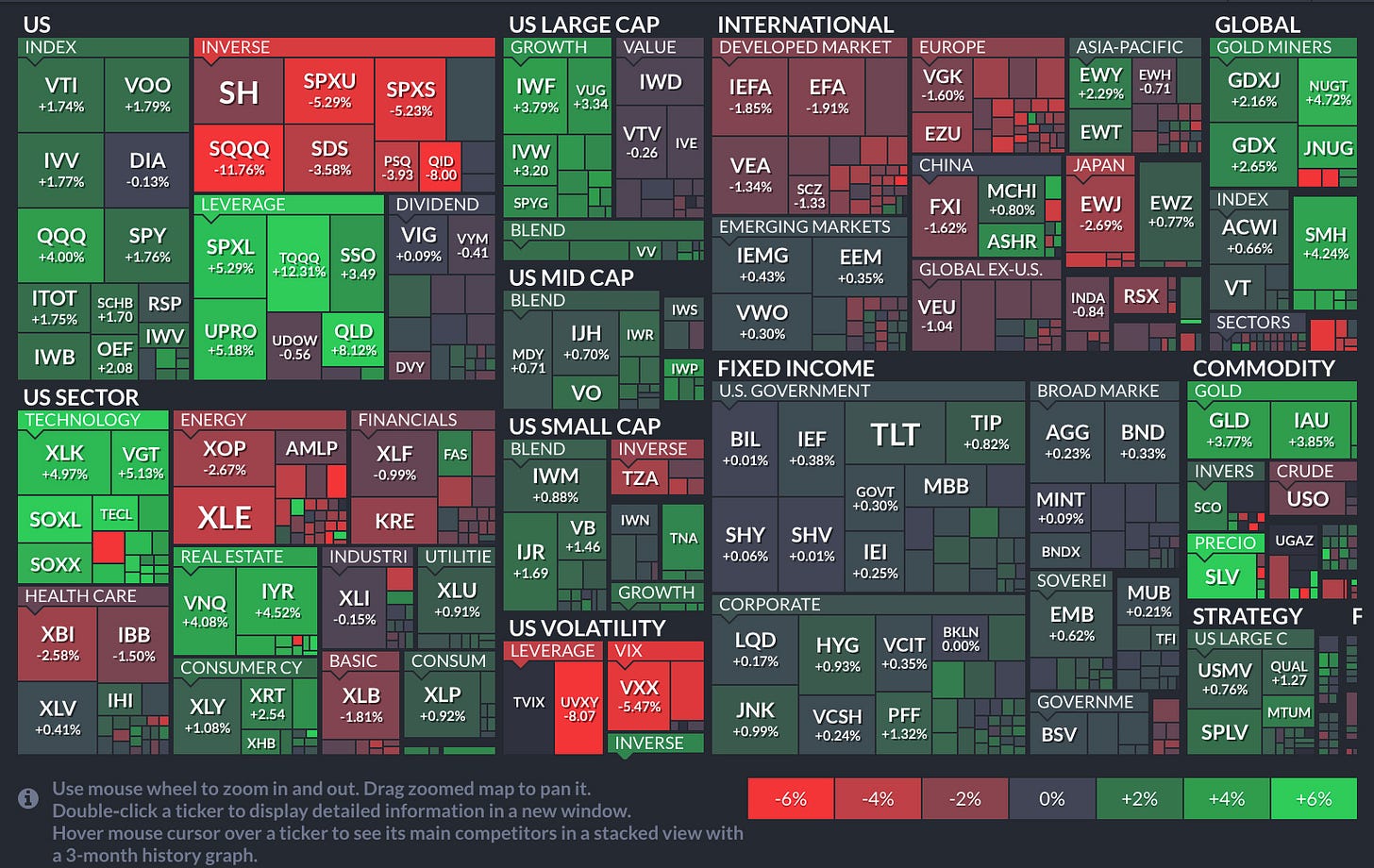 🔗 Source
---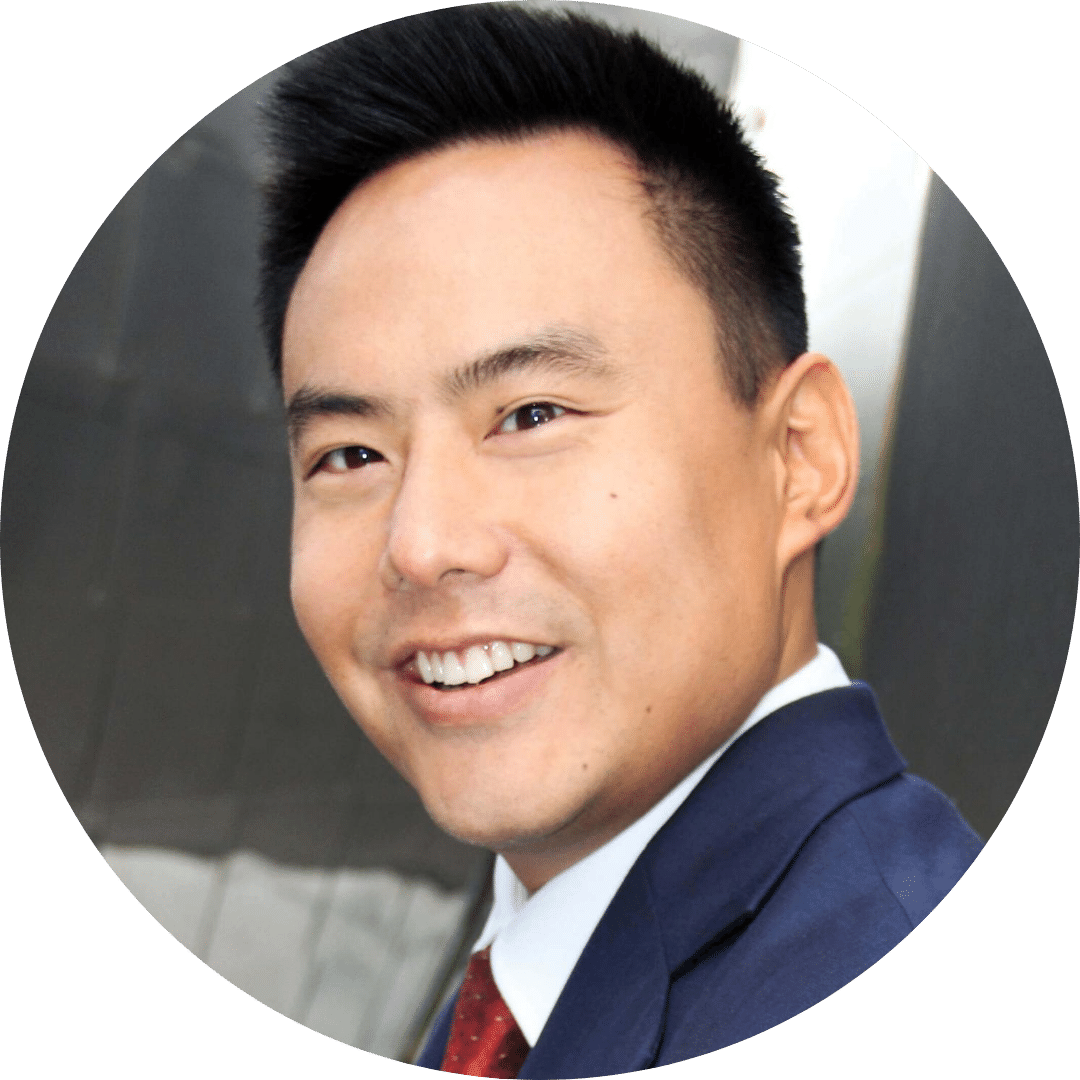 Curated by Joseph Lu, CFA®
Joseph has over a decade of experience as an investment professional, primarily in quantitative analysis and portfolio management roles. He is the founder and managing director of Conscious Capital Advisors and a CFA® Charterholder. The CFA charter is a globally respected, graduate-level investment credential by the CFA Institute, a global association of more than 90,000 investment professionals working in over 133 countries.
🔗 Connect with us on LinkedIn, Facebook, or Twitter.
---
Have a question about what we shared? Email us at info@consciouscapital.pro.
Do not reply to this email with any service requests, contact us for support if needed.
The information presented in this newsletter is for educational purposes only and is not a solicitation for any specific security, product, service, or investment strategy.
Investments involve risk and unless otherwise stated, are not guaranteed. Be sure to consult with a qualified financial advisor, tax professional, or attorney before implementing any strategy or recommendation you may read here.