Discover more from Conscious Capital Advisors Research
Research, reports and commentary on global financial markets by Joseph Lu, CFA.
📰 Conscious Capital Insights for 04/17/2020
Institutions are aggressively buying U.S. equities, while retail investors sit on sidelines (Bloomberg / AAII)
As the Fed enacts historic monetary policies to provide liquidity to financial markets, money flows suggest that institutional investors are increasing their domestic equity allocations. Retail investors, however, remain bearish and are likely allocated to cash according to the AAII sentiment surveys.
---
Coronavirus job losses likely to eclipse jobs created since Great Recession; Washington plans for additional fiscal support  (CNBC / Business Insider)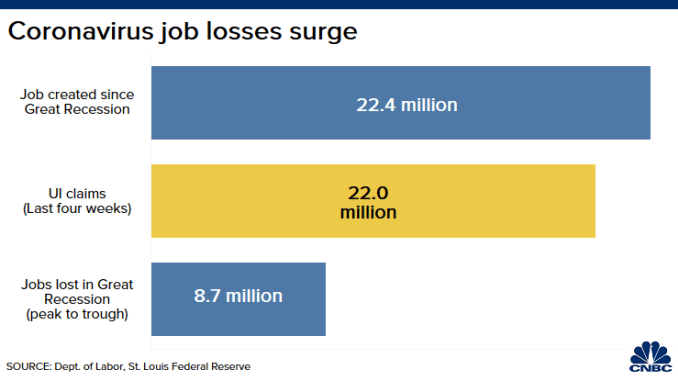 It took only four weeks for the U.S. economy to wipe out nearly all the job gains in the last 11 years. As the COVID-19 crisis continues, House Democrats are pushing to pay Americans $2,000 a month during the duration of the pandemic. Trump has also signaled support for a 2nd round of payments.
---
OPEC+ reaches deal to cut oil production by 9.7 million barrels per day (CNBC)
Saudi Arabia and Russia have set aside their differences and negotiated a major deal with other oil producing nations. They will cut oil production by 9.7 million barrels a day in an effort to stabilize the drop in energy demand created by COVID-19.
---
Have feedback? Email us at info@consciouscapital.pro.
The information presented in this newsletter is for educational purposes only, and is not a solicitation for any specific security, product, service or investment strategy. Also, the views and opinions expressed in the linked content are those of the content creators and do not necessarily reflect the official position of Conscious Capital Advisors. Investments involve risk and unless otherwise stated, are not guaranteed. Be sure to consult with a qualified financial advisor, tax professional, or attorney before implementing any strategy or recommendation you may read here.